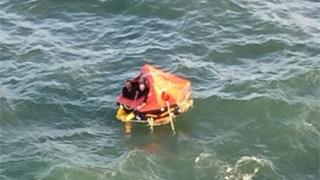 A major search operation is under way for two missing fishermen after their ship sank in the North Sea.
Three other crew members were rescued from their life raft by a cruise ship after their distress flare was spotted at 18:45 BST. They had been in the raft for four hours.
A coastguard helicopter, lifeboats and ships from an offshore gas field are searching for the two missing men.
Their fishing boat sank about 25 miles north-east of Great Yarmouth, Norfolk.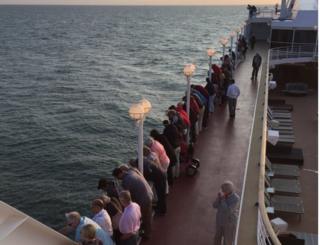 The cruise ship involved was the Pacific Princess.
Passenger Teena Dowd said the captain announced there was a life raft on the ship's starboard side.
She said concerned passengers lined the deck and clapped as the men were helped on board.
'Everybody clapped'
She said: "We were on the very top deck, and people were just sort of holding their breath, everybody was anxious.
"Because we all at the time supposed there was only three of them, everyone is clapped when they came on the ship."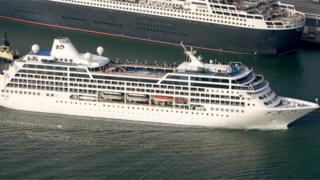 She said the captain later announced that there was a search for two more men.
HM Coastguard said all the men were foreign nationals.
'Early hours'
"We believe the two missing crew were watched to enter the water, " said Lee Duncan, coastguard operations controller for the East Coast.
The search on Saturday night involved two coastguard helicopters, lifeboat crews from Gorleston and Caister, and a number of other boats in the area.
They were stand down at 03:30 BST, but resumed at first light.
Paul Garrod from Caister Lifeboat said: "There were supply barges around and it's not too far from the nearest gas field, so they brought some of the boats from there as well and we all searched until the early hours of the morning.
"There were 20 -odd ships in the vicinity so it was a very detailed search, but all they found was some wreckage.
"They had a rest for a few hours and are now back to it, but how long the search will go on for today, I don't know."